Esports over time has been able to garner not only a large following, but also convert many from hobbyists to pro gamers. There are still some individuals who want to be a part of this world but be beyond spectators. Trust when we say that esports has got you covered and has quite a number of spots open to be actively involved with the business of it.
Just as traditional sports such as football, basketball, rugby, have commentators on the side, the world of esports is not exempt from this! In fact there are also commentators in this arena as well, and the name used for this person is a shoutcaster. Who they are and what they do will be further expanded as we proceed into the role:
Photo credit: Reuters
Who is a Shoutcaster?
A shoutcaster in esports is an individual who gives commentary on esports matches, providing a play-by-play or analytical view from either behind a desk or on stage at the venue. Shoutcasting, or casting means to inform the audience about what's happening while being entertaining.
Photo credit: Metro News
Types of Shoutcasting
Shoutcasting, as highlighted in the role's definition, can be done from a desk in a studio or live on stage where the event is happening, and the ways it is done are either PBP (play-by-play) or color. What a PBP shoutcaster does is to keep everyone informed about what's happening with what the players are doing, while being straightforward and adding some commentary where needed in – especially in pauses or dullness with play sound so that the excitement is kept going. A color shoutcaster (or colorcaster) on the other hand, does a more detailed job with the commentary. They have to know the ins and outs of the game – gameplay, strategies – to be able to inform the audience about what strategies are being employed by the players so they can understand what's happening on the screen. Doing this is what it means by adding "color" to the broadcast through the gameplay and analytics.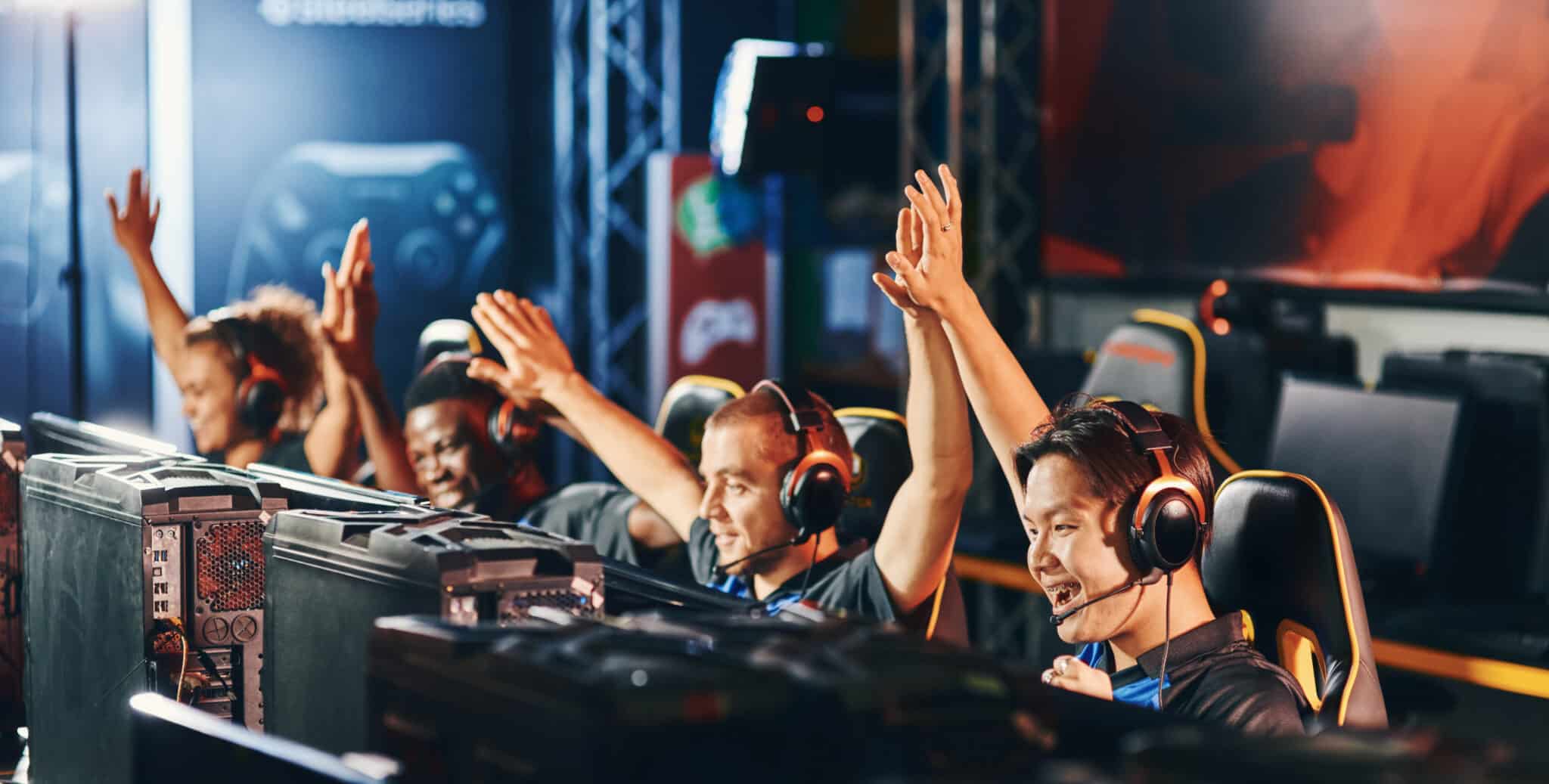 Photo credit: Iowa Valley Community College District
Is Shoutcasting For The Audience Or The Players?
Shoutcasting leans more into catering to the audience. Since players may be engrossed in devising strategies to use during gameplay, they may be distracted by the commentary and the noise from the crowd, and hence wear their headphones to focus on the action on screen. But where some strategies are shouted out from the audience or the shoutcasters that could be useful to the players, once in a while the players may tap in from there, but would have to quickly resume gameplay.
How To Become An Esports Shoutcaster
Thanks to broadcasting platforms such as YouTube and Twitch, casting has now become easier to do. You can start from there by creating your channel, producing showreels over some of the existing matches, and reaching out to tournament providers to pick up experience. Picking up experience helps you to grow your reputation as you get to put in more work. Since casting has similarities in skill sets with TV and radio hosting, studying broadcasting can also help in making these skills relevant to the role.
How Much Does a Shoutcaster Earn?
For full-time roles, a shoutcaster earns roughly around $20,000 - $25,000/yr as starting salary, and going further can have them earn as high as $75,000/yr. Freelance shoutcasters however, get to earn higher – going as high as $700/day! Risky yes, but that should not be a problem after having earned a good reputation from being a contracted shoutcaster for a decent period of time.
Esports has helped create jobs for lots of people. Interested in knowing about the business side of esports? Listen to the Gamers Change Lives Podcast! We get experienced guests from all around the world featuring.
Written by Jeffrey Osei-Agyeman