Photo credit: Red Bull.com
eSports has gone beyond being an after-school or weekend leisure activity with friends and family to becoming a full blown industry with millions made and careers being made and established as the years go by. We have seen teams being formed to companies rallying behind from endorsements to equipment and gaming software. Now an industry, it is certain that there are key roles being played to ensure its sustenance, and one of such jobs helping out is coaching.
Behind every esports team, there are personnel helping to bring out the best out of players. One of such instrumental players is the coach. The coach's role transcends all sports – traditional or eSports – working closely with the players to help them improve their skills by identifying their strengths and weaknesses, motivating them to be at their best and help them win as many games as possible through carefully developed strategies.
With eSports coaching jobs, you may be managing individuals or teams on the Internet or in person, and there are a number of roles one can apply for within the coaching department: head coach, draft coach, strategy coach and sports psychologist. Sometimes these roles can be undertaken by one person depending on the team and their coaching structures.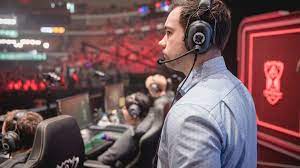 Photo credit: Happy Gamer
Head Coach: Oversees one or more professional teams in a league. Coaches in the collegiate leagues often manage multiple teams that will represent the schools in competitions.
Photo credit: RiftFeed
Draft Coach: Focuses on recruiting eSports athletes and improving player performance in the team(s).
Photo credit: The Gamer
Strategy Coach: Develops long-term strategies for teams from game analyses, pinpointing players' weaknesses and strengths and helping them to follow a specific direction. They are often with the players on stage during the games.
Photo credit: Esports Talk
Sports Psychologist: Helping gamers manage the state of their mind while they play by focusing on the threefold – individual players, the team(s) and coaches. They tackle player performances, helping to create a common goal for teams and work closely with the coaches while they develop strategies and help with practice improvement.
Qualifications For Becoming an eSports Coach
To secure an eSports coaching job, you would require some adequate video game skills, a college degree or equivalent experience, and past professional experience in eSports competitions. At the professional level however, competitive experience and successes are more valuable to employers than a degree, and you will need to learn the rules and regulations of the competitions your teams will be participating in.
How Much Salary Does An eSports Coach Make?
Salaries are dependent on country and competitive levels. Coaches make on an average around $5000 at the professional league, and they can go up as they win tournaments and other competitions. Bonuses can be awarded as well from achievements won from competitions. There will be significant increments as you continue to climb the ladder of success in competitive levels as a coach.
Esports has helped create jobs for lots of people. Interested in knowing about the business side of esports? Listen to the Gamers Change Lives Podcast! We get experienced guests from all around the world featuring.
Written by Jeffrey Osei-Agyeman